WBA ASIA qualified promoters
May 27, 2021 | Written by WBA ASIA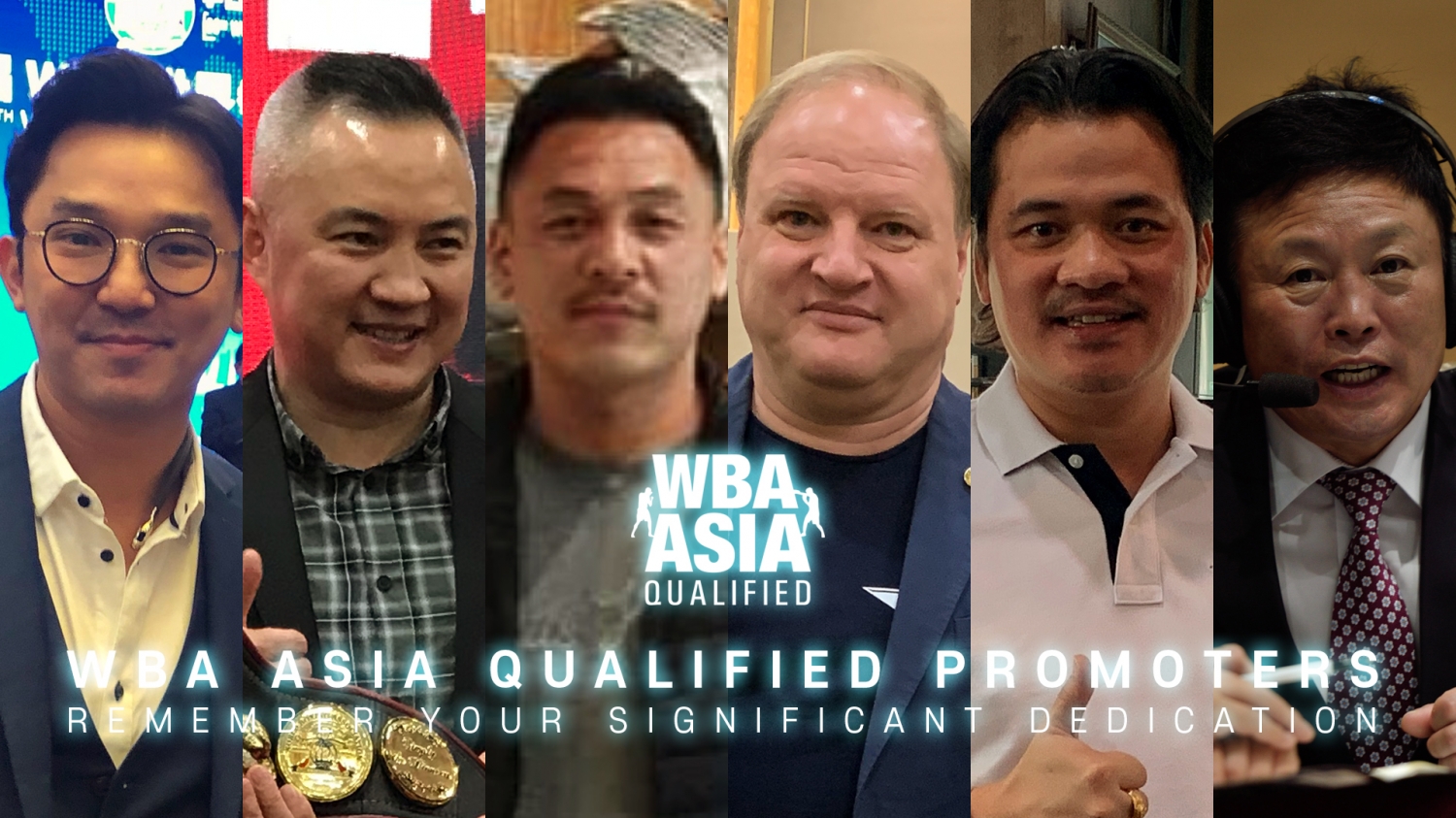 In professional boxing world, promoters are indispensable for boxing show. Last few years, follow promoters dedicated their great efforts for WBA ASIA activities.
#Terry Laosuwanwat (TL Boxing Promotions) - Terry created boxing tournament, "The Fighter", in Thailand. Through this event, he promoted the youngest big potential WBA ASIA Super Lightweight champion Phoobadin Yoohanngoh [WBA#15]. Even though Covid situation, he promoted WBA ASIA titles many times. Now, TL Boxing Promotion is becoming top promotion in Thailand.
#Liu Gang (Max Power Promotions) - Needless to say, Liu is the top promoter in China. He promoted WBA Featherweight world champion Can Xu, also he has promoted multiple WBA ASIA titles in China. He would start new boxing tournament which could be the best nexus to the international boxing stage for Chinese boxers.
#Chris Luu (SSC Promotions) - SSC is the actual best promotion in Vietnam. Chris has the largest boxing gym in Asia and manages various Vietnam boxers. He promoted the most famous boxer, Dinh-Hoang Truong, who became WBA ASIA Super Middleweight champion with the large crowd of 20,000 spectators in Hanoi. Also, he promoted the first ever Cambodian champion, Eric Pen, for WBA ASIA Heavyweight title. Both are memorable in our history.
#Vald Hrunov (Vlad Hrunov Promotions) - Vlad promotes very high quality boxing in Russia all time. He developed former WBA ASIA Middleweight champion, Magomed Madiev [WBA #2], and he tries to find world title shot soon. He is one of bona-fide promoters for WBA.
#Tan Bangplee (Tantelecom Promotions) - Tan promoted the most multiple WBA ASIA titles in a single day with 5 WBA ASIA titles. Through his great efforts, his boxer Nattapong Jankaew, WBA ASIA Super Flyweight champion, became world ranker with No.13.
#Myung-Woo Yuh (Buffalo Promotions) - The most famous Korean former WBA world champion, Myung-Woo Yuh, who was long time WBA Light Flyweight champion with 17 defenses. After retire, he became the promoter of Buffalo Promotions. He promoted several WBA ASIA titles and now his boxer In-Duck Seo became WBA ASIA Welterweight champion.

As WBA ASIA qualified promoters, we highly remember your great meaningful achievements for boxing field and for WBA ASIA, and we will tightly cooperate continuously with our future WBA ASIA project.
Truly appreciated your efforts.